Emilia aus dem Hause Grinke
Emilia is a typically Chartreux girl and the more affectionate one, definitely. She greets us in the morning after we get up and is especially happy when we go into the kitchen. There she looks at us with big eyes and demands her food.
Stroking is great, especially in the bathroom in the morning. There she likes to fall over when petting, like the cat. If I ignore her for too long, she sometimes reminds me with very tentative love bites. Taken in her arms, she sometimes makes herself comfortable for a while.
Fighting is always a great game, she just doesn't want to lose. … then the little one squeaks. 😸
But she prefers to romp around the house with the cat and knows how to put him in his place. Yes, she is the boss.
Our cat Collin is particularly fond of her. She would love to follow him everywhere. She also gets regular caresses from him.
Emilia is just a cute cat – just a pretty Chartreux girl!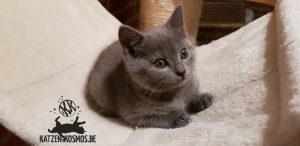 Born on September 15th, 2018
Mother: Pauline von Roit zu Hoya
Father: Yoshua vom Lauerhof
Blood group A
CH Shiva de la Vimeusière
Shiva is a sunshine and brings harmony into the house.
She has enjoyed very good socialization and treats every cat with respect and consideration. She gives everyone the freedom they need so that each cat can decide for itself whether or not to accept the request to play. And it works … Everyone loves to romp with Shiva above, below and behind the sofa. Even our cat grandma Ciara (as I affectionately call her) romps through the living room like a young hop with Shiva, although she actually only plays with me.
Shiva loves the contact and the exchange with us. Whenever she sees us, she comes running up happily, talks to us and growls like a tractor. Loudly and constantly. We have been woken up by her purr one time or the other at night because she has found us asleep. 😅
She is our gold piece. 💎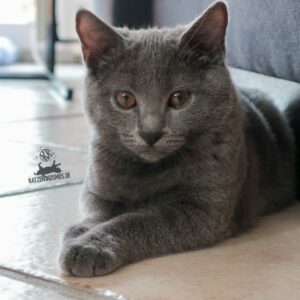 Born on January 13th, 2021
Mother: Pénélope de la Vimeusière
Father: Saphir de la Pâquerette
| | | | | |
| --- | --- | --- | --- | --- |
| | | | | |
| | | | | Nomination for Best in Show |
| | | | | |
| | | | | |