Emilia aus dem Hause Grinke
Emilia is a typically Chartreux girl and the more affectionate one, definitely. She greets us in the morning after we get up and is especially happy when we go into the kitchen. There she looks at us with big eyes and demands her food.
Stroking is great, especially in the bathroom in the morning. There she likes to fall over when petting, like the cat. If I ignore her for too long, she sometimes reminds me with very tentative love bites. Taken in her arms, she sometimes makes herself comfortable for a while.
Fighting is always a great game, she just doesn't want to lose. … then the little one squeaks. 😸
But she prefers to romp around the house with the cat and knows how to put him in his place. Yes, she is the boss.
Our cat Collin is particularly fond of her. She would love to follow him everywhere. She also gets regular caresses from him.
Emilia is just a cute cat – just a pretty Chartreux girl!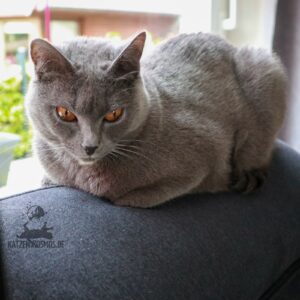 Born on September 15th, 2018
Mother: Pauline von Roit zu Hoya
Father: Yoshua vom Lauerhof
Blood group A
Elina vun Mang de Meren (called Elli)
The daughter of our Emilia from Grinke and Uzetto de la Paquerette was born on 1.7.2023 with two brothers. With them she learns above all to do nonsense. She can fight like a cat with her brothers Emil and Elmar, but she also likes to play with a feather duster. She is our soccer queen, because she dances around the room like Ronaldo with every ball.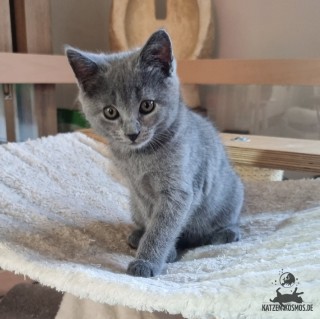 Born on July 1st, 2023
Mother: Emilia aus dem Hause Grinke
Father: Uzetto de la Paquerette
Bllod group follows
Pedigree follows